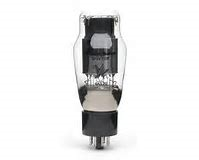 6B4G Sovtek
All our tubes are computer tested at the highest standards.
They are available as a single tube, matched pairs or matched quads. If you order 8 tubes, we will supply you with 2 matched quads, as close as possible to each other.
We offer a 3 months warranty from shipment date.
Audionote.shop will in no way be held responsible (financially or otherwise) for any damage caused by the misuse of tubes sold by us. It is the sole responsibility of the customer to always refer to the equipment manufacturer with regards to proper tube replacement and, if required, biasing adjustment to be correctly set up by a qualified technician only.
Pricing is for one tube, including Platinium Matching for pairs and quads.
Sovtek is proud to announce the release of the Sovtek 6B4G vacuum tube. Unlike traditional 6B4G's, which consist of dual triodes connected in parallel inside the tube's envelope, the Sovtek 6B4G utilizes a single triode design with a Directly Heated cathode element. This updated design eliminates differential resistance loading common to other 6B4G's, yielding a much more reliable tube. In addition, the Sovtek 6B4G has a lower inter-electrode capacitance, offering a wider frequency response with high sound detail. The Sovtek 6B4G is identical to the original 6B4G in appearance, electrical specs, and overall and connecting dimensions, yet it yields 40% higher power at 30% lower non-linear distortion levels.
The 6B4G has a heater current of 1 A and a plate current of 60 mA. Transconductance is 5.5 mA/V while the tube has an amplification factor of 2.2 and an output power of 3 watts.
Maximum plate voltage is 450 v while maximum cathode current is 100 mA.