Clifford Brown : Study in Brown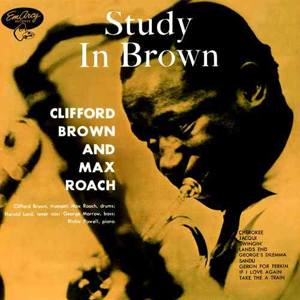 Clifford Brown : Study in Brown
Clifford Brown (trumpet), Harold Land (tenor sax), Richie Powell (piano), George Morrow (bass), Max Roach (drums)
Mercury EmArcy 36037
Speakers Corner Records : LP 180 gram
Brand New and Sealed Record
Discontinued : last copy available!...
A1 - Cherokee
A2 - Jacqui
A3 - Swingin'
A4 - Lands End
B1 - George's Dilemma
B2 - Sandu
B3 - Gerkin For Perkin
B4 - If I Love Again
B5 - Take The A Train
Recorded on February 23-25, 1955 at Capitol 30th Street Studios, New York City
From the very first second, beginning with the magic drumming of Max Roach, right up to the very last note, this LP will overwhelm listeners with its sheer power – hard bop is certainly no easy fare for lovers of beautiful sounds. One is swept along in a maelstrom into the unknown, and is taken to wherever the soloist's wealth of ideas leads him. That's particularly clear in the case of "Caravan", "Lands End", and "Gerkin' For Perkin": the brilliantly interacting quartet, all of them soloists with 'equal rights', race through the numbers like an express train. The trumpet and the tenor sax – often playing unisono – are not placed at the fore (which would be usual), but are on the same tonal plane as the rhythm group. By this means, a tightly-knit, typical, thrilling sound is achieved, with the result that this album must be counted among the top 100 in the jazz firmament.
Generations of trumpeters have since studied Clifford Brown's art of playing, who died tragically young in a car accident. Now, thanks to this top-quality re-release, listeners are offered a wonderful opportunity to study this "Study In Brown".
The passer-by would be forgiven for thinking that jazz music was at one time cursed to be populated by drug addicts, alcoholics and sad figures. Clifford Brown, however, was none of these. Instead he was a budding genius who lived a clean life, but still died young, aged 25. He died in a car crash and wasn't even behind the wheel. Seems that the spirit of jazz was gonna get him anyway.
This excellent album features tenor saxophonist Harold Land, pianist Richie Powell and bassist George Morrow. Max Roach accompanies the group brilliantly on drums, and it's hard bop to the max, courtesy of one band that could have reached the heights in time. Now you can learn what all the fuss was about.
This Speakers Corner LP was remastered using pure analogue components only, from the original analogue studio tapes through to the cutting head, and was pressed with virgin vinyl at Pallas. More information under http://www.pure-analogue.com