Buck Clayton : How High the Fi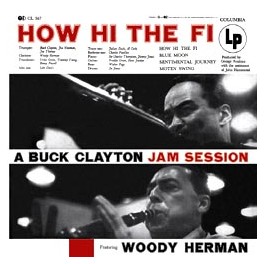 Buck Clayton : How High the Fi
Buck Clayton, Joe Thomas, Joe Newman (trumpet), Urbie Green, Trummy Young, Benny Powell (trombone), Woody Herman (clarinet), Lem Davis (alto sax), Julian Dash, Al Cohn (tenor sax), Charlie Fowlkes (baritone sax), Jimmy Jones, Sir Charles Thompson (piano), Steve Jordan, Freddie Green (guitar), Walter Page (bass), Jo Jones (drums)
Columbia 567
Pure Pleasure Records : 2 LPs 180 gram
Brand New and Sealed Record
Deleted : last copy available!
A - How Hi The Fi
B - Blue Moon
C - Sentimental Journey
D - Moten Swing

A & B recorded on March 31, 1954
C & D recorded on December 14, 1953
The Buck Clayton LP How Hi The Fi was the first issue in 1954 from the famous Buck Clayton jam sessions. It was recorded at Columbia's 30th Street Studios, which was one of the greatest recording sites in the world (the studio has since been abandoned, which must be one of the most stupid decisions executed by the corporate record industry), with a sound that's still instantly recognizable. These Buck Clayton jam sessions were among the first large scale projects to utilize the potential of the new LP technology. The exciting music on this long-out-of-print LP is now available again on 180-gram vinyl, with the cuts "How Hi The Fi" and "Blue Moon" being the most memorable. Buck and fellow musicians are all in inspired form. The most memorable soloists are the rambunctious Trummy Young, the harmonically advanced chordings of Jimmy Jones and an exuberant Woody Herman who was rarely heard in this type of jam session setting. With Clayton having worked out some ensemble riffs for the horns beforehand and plenty of space left for spontaneity, this music is timeless magic.
This Pure Pleasure LP was remastered using pure analogue components only, from the original analogue studio tapes through to the cutting head and was pressed with virgin vinyl at Pallas.