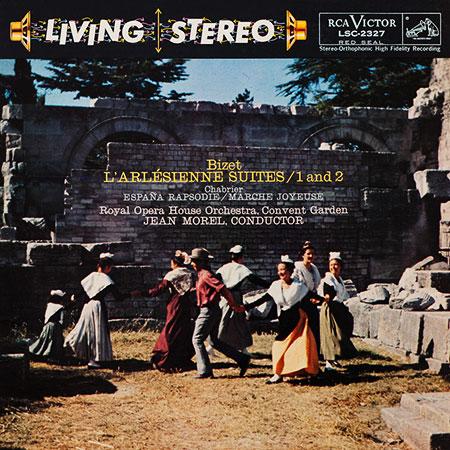 Bizet & Chabrier
Bizet : L'Arlésienne Suites 1 & 2 - Chabrier : Espana Rapsodie, Marche Joyeuse
Jean Morel conducting the Royal Opera House Orchestra, Covent Garden
RCA "Living Stereo" LSC 2327
Analogue Productions : LP 200 gram
Brand New and Sealed Record
sold out
Georges Bizet (1838-1875) :
L'Arlesienne, Suite No. 1
L'Arlesienne, Suite No. 2
Emmanuel Chabrier (1841 - 1894) :
Marche Joyeuse
Jean Morel conducts the Royal Opera House Orchestra, Convent Garden for this recording of music by Bizet & Chabrier. Large, notably transparent soundstage on this recording, in which the orchestra is set back farther than the usual Decca/RCA.

Recorded at Kingsway Hall, London, by Kenneth Wilkinson.
The "golden age" of recordings was roughly from 1955 to 1965, at the beginning of the stereo era, where pure vacuum tube amplification helped produce recordings demonstrating unparalleled fidelity and warmth, lifelike presence and illumination.
This Analogue Productions LP was remastered by Bernie Grundman, using pure analogue components only, from the original analogue studio tapes through to the cutting head and was pressed on 200-gram virgin vinyl at Quality Record Pressings.