Elvis Presley : From Elvis in Memphis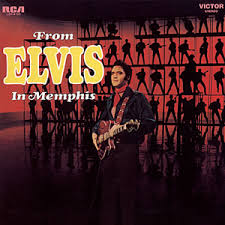 Elvis Presley : From Elvis in Memphis
RCA 4155
Speakers Corner Records : LP 180 gram
Brand New and Sealed Record
A1 - Wearin' that Loved Look
A2 - Only the Strong Survive
A3 - I'll Hold You in My Heart
A4 - Long Black Limousine
A5 - It Keeps Right On A-Hurtin'
A6 - I'm Movin On
B1 - Power of My Love
B2 - Gentle on My Mind
B3 - After Loving You
B4 - True Love Travels on a Gravel Road
B5 - Any Day Now
B6 - In the Ghetto
Recorded in January and February 1969 at American Sound Studio in Memphis, Tennessee.
From Elvis in Memphis is far more than just one of around 40 albums which the King of Rock' n' Roll produced during the course of 35 years. It marks what is probably the most impressive comeback in the entire history of pop music.
After a 14-year absence from Memphis, Elvis Presley returned to cut what was certainly his greatest album (or, at least, a tie effort with his RCA debut LP from early 1956). The fact that From Elvis in Memphis came out as well as it did is something of a surprise, in retrospect - Presley had a backlog of songs he genuinely liked that he wanted to record and had heard some newer soul material that also attracted him, and none of it resembled the material that he'd been cutting since his last non-soundtrack album, six years earlier. And he'd just come off of the NBC television special which, although a lot of work, had led him to the realization that he could be as exciting and vital a performer in 1969 as he'd been a dozen years before. And for what was practically the last time, the singer cut his manager, Tom Parker, out of the equation, turning himself over to producer Chips Moman. The result was one of the greatest white soul albums (and one of the greatest soul albums) ever cut, with brief but considerable forays into country, pop, and blues as well. Presley sounds rejuvenated artistically throughout the dozen cuts off the original album, and he's supported by the best playing and backup singing of his entire recording history.
The "golden age" of recordings was from 1955 to 1965, at the beginning of the LP and the stereo era, where pure vacuum tube amplification helped produce recordings demonstrating unparalleled fidelity and warmth, lifelike presence and illumination.
This Speakers Corner LP was remastered using pure analogue components only, from the original analogue studio tapes through to the cutting head, and was pressed with virgin vinyl at Pallas. More information under http://www.pure-analogue.com