Charlie Mingus : East Coasting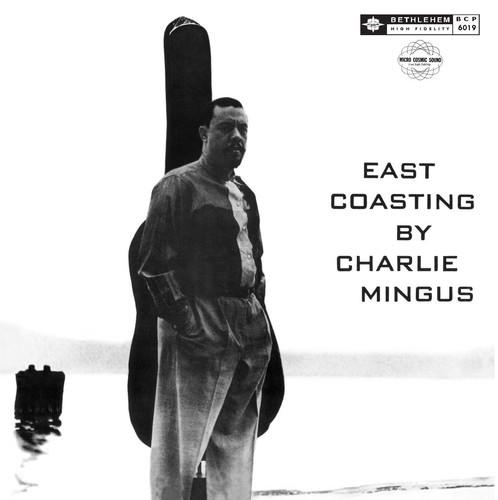 Charlie Mingus : East Coasting
Shafi Hadi (tenor, alto sax), Clarence Shaw (trumpet), Jimmy Knepper (trombone), Bill Evans (piano), Charles Mingus (bass), Dannie Richmond (drums)
Bethlehem 6019
Pure Pleasure Records : LP 180 gram
Brand New and Sealed Record
sold out
A1 - Memories Of You
A2 - East Coasting
A3 - West Coast Ghost
B1 - Celia
B2 - Conversation
B3 - Fifty-First Street Blues
Recorded on August 16, 1957, in New York City.
Charles Mingus is usually known for his wild, soulful and avant-garde compositions. "East Coasting" is mellow by comparison, but it still cooks on a musical level. The Mingus touches are there; the trombone, drummer Danny Richmond and of course the dark emotional undercurrent looms large, too. The personnel are all Mingus regulars, except for pianist Bill Evans, who would not be described as "soulful" in the traditional sense, but his introverted and sensitive style works well with Mingus's music. His playing on "West Coast Ghost" (the album's stand-out track) and "Celia" are two examples of Evans' ability to understand an artist's musical vision and play accordingly in his own beautifully original style.

East Coasting sounds like the prototypical 1950s jazz recording. It's something one would hear in an attic converted to a bedroom where an artist or lonely soul might live. It's what a lot of people might believe Jazz would or should sound like. Highly recommended to Jazz lovers and perhaps more importantly- to young people who have just been blown away by Kerouac's novel "On the Road" and have become interested in exploring Jazz. East Coasting will allow them to get a taste of lost creative America.
The "golden age" of recordings was from 1955 to 1965, at the beginning of the LP and the stereo era, where pure vacuum tube amplification helped produce recordings demonstrating unparalleled fidelity and warmth, lifelike presence and illumination.
This Pure Pleasure LP was remastered using pure analogue components only, from the original analogue studio tapes through to the cutting head and was pressed with virgin vinyl at Pallas.