Thelonious Monk : Something in Blue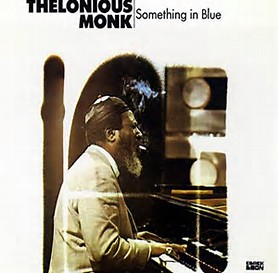 Thelonious Monk : Something in Blue
Thelonious Monk (piano), Al McKibbon (bass), Art Blakey (drums)
Black Lion 30119
ORGM Records : LP 180 gram
Brand New and Sealed Record
sold out
A1 - Blue Sphere
A2 - Hackensack
A3 - Nice Work If You Can Get It
A4 - Criss Cross
B1 - Something In Blue
B2 - Evidence
B3 - Jackie-ing
B4 - Nutty

Recorded on November 15, 1971 at Chappell Studios, London.
Alan Bates took Thelonious Monk into the studio for his first trio recording in fifteen years with his old sidekick Art Blakey. It has been said often enough that Blakey is the ideal drummer for Monk, and one has only to hear them together again after all this time to realize the truth of the statement. If Blakey at times seems to push the pianist almost too hard, that is in fact the nature of their musical relationship. And, throughout the session, Blakey appeared to be vying with the producer in alternately cajoling and coercing Monk into fulfilling various requests from the small invited audience.
"There's nothing weak, indecisive or "washed up" about Monk's playing here. He sounds strong, in great humor and thoroughly engaged....The piano sound is absolutely superb harmonically, texturally and especially dynamically. It's big, intimate and close with the hand separation giving you unusually clear access to Monk's musical thinking." - Michael Fremer, www.musicangle.com,
This ORG Music LP was remastered by Bernie Grundman, using pure analogue components only, from the original analogue studio tapes through to the cutting head and was pressed on virgin vinyl at Pallas.