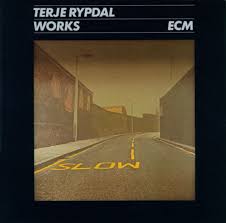 Terje Rypdal : Works
Terje Rypdal Works : his best ECM recordings of the years 1974-19
Terje Rypdal (guitar, organ, synthesizer, flute), Jan Garbarek (flute), Miroslav Vitous (bass), Jack DeJohnette, Jon Christensen (drums, percussion)
ECM Works 9
ECM Records : LP 160 gram
Brand New and Sealed Record
Discontinued : last copy available!...
A1 - Waves
A2 - Den Forste Sne
A3 - The Hunt
A4 - Better Off Without You
B1 - Innseiling
B2 - Rainbow
B3 - Topplue, Votter & Skjerf
B4 - Descendre
Recorded August, 1971 - January, 1981.
Terje Rypdal was born in Oslo, 1947, the son of a composer, clarinetist and orchestra leader. He studied classical piano and trumpet as a child, and then taught himself to play guitar as he entered his teens. Starting out as a Hank Marvin-influenced rock guitarist with The Vanguards, Rypdal turned towards jazz in 1968 and joined Jan Garbarek's group and later George Russell's sextet and orchestra. An important step towards international attention was his participation in the free jazz festival in Baden-Baden, Germany, in 1969, where he was part of a band led by Lester Bowie. He has often been recorded on the ECM record label, both jazz-oriented material and classical compositions.
"Works is an excellent sampler of Rypdal's music; it includes cuts from his superb (but currently unavailable) early-'70s albums," - AllMusic