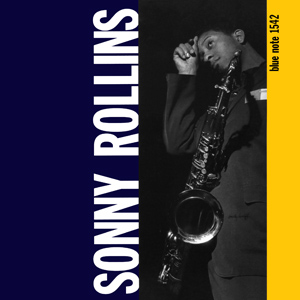 Sonny Rollins : Vol. 1
Sonny Rollins (tenor sax), Donald Byrd (trumpet), Wynton Kelly (piano), Gene Ramey (bass), Max Roach (drums)
Blue Note 1542
Music Matters Records : 2 LPs 180 gram (45rpm)
Limited edition : 2,500 printings
Brand New and Sealed Record
Discontinued : last copy available!...
1 - Decision
2 - Bluesnote
3 - How Are Things in Glocca Morra
4 - Plain Jane
5 - Sonnysphere
Recorded on December 16, 1956 at Rudy Van Gelder Studio in Hackensack, New Jersey
Volume 1 is Sonny Rollins' first album for the Blue Note label after several incredible dates for Prestige, Rollins moved over to Blue Note to cut a series of studio and live recordings; while not as groundbreaking as his earlier work, the albums still stand out among the many hard bop releases of the day. Upon listening to this, his fine debut for the label, not to mention classics like Saxophone Colossus and Sonny Rollins Plus Four, one almost takes for granted the tenor giant's ability to reel off a nonstop flow of breathtaking solo lines while keeping an overall thematic structure intact. And even though it's not as classic sounding as other Blue Note titles like Vol. 2 or Newk's Time, Sonny Rollin Vol.1 will satisfy Rollins fans comfortable with a mostly loose and free-flowing set; the hard-swinging originals "Bluesnote" and "Sonnysphere" certainly fit the bill, while the loping blues "Decision" and easy swinger "Plain Jane" up the ante with fetching head statements. Topping things off, Rollins includes one of his singular Broadway song interpretations with the "Finian's Rainbow" ballad "How Are Things in Glocca Mora." Figuring prominently in the proceedings are veteran bassist Gene Ramay, longtime drummer Max Roach, and then up-and-coming hard bop stars trumpeter Donald Byrd and pianist Wynton Kelly.
The "golden age" of recordings was from 1955 to 1965, at the beginning of the LP and the stereo era, where pure vacuum tube amplification helped produce recordings demonstrating unparalleled fidelity and warmth, lifelike presence and illumination.
Like all Music Matters Jazz releases, this audiophile vinyl reissue is remastered from the original analogue Van Gelder studio tapes and pressed on 180g virgin vinyl at RTI. The highest quality gatefold cover features original session photography on the inside.