Sonny Rollins : On Impulse!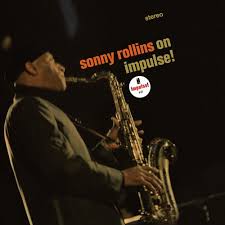 Sonny Rollins : On Impulse!
Sonny Rollins (tenor sax), Ray Bryant (piano), Walter Booker (bass), Mickey Roker (drums)
Impulse 91
Analogue Productions Records : 2 LPs 180 gram (45rpm)
Limited edition : 2,500 printings
Brand New and Sealed Record
Discontinued : last copy available!...
A - On Green Dolphin Street
B - Everything Happens to Me
C1 - Hold 'Em Joe
C2 - Blue Room
D - Three Little Words
Recorded on July 8, 1965 at Rudy Van Gelder Studio in Englewood Cliffs, New Jersey.
Sonny Rollins On Impulse! is the first of three albums Rollins issued for the Impulse! label in 1965 and 1966. They would be his last until 1972 when he re-emerged on the scene from a self-imposed retirement. This date is significant for the manner in which Rollins attacks five standards with a quartet that included pianist Ray Bryant, bassist Walter Booker and drummer Mickey Roker.
Rollins, who had been recording for RCA and its Bluebird subsidiary, had spent the previous three years (after emerging from his first retirement) concentrating on standards and focusing deeply on intimate, intricate aspects of melody and harmony. He inverts the approach here, and digs deeply into pulse and rhythm and leaving melody to take care of itself. This is not a "new thing" date but instead focuses on playing according to the dictates of the rhythm section and on interchanging with Booker and Roker, leaving much of the melodic aspect of these tunes to Bryant. Rollins could never quite leave the melody out of anything he played because of his intense gift as a lyrical improviser; he nonetheless stripped his approach back and played tunes like "On Green Dolphin Street" by improvising according to theme rather than strict melody, where his interplay with the rhythm section becomes based on the dynamic and shifting times played by Roker. While things are more intimate and straight on "Everything Happens to Me," he nonetheless plays the edges, filling the space like a drummer. Melody happens throughout, the tune is recognizable, but it is stretched in his solo to a theme set by the shimmering cymbals and brushed snare work of Roker. The oddest cuts in the set are the last two; spaced out readings of "Blue Room," and "Three Little Words"; they sound as if he were preparing the listener for a true change in his approach. Melody gets inverted, with spaces and syncopation taking the place of notes. The swing is inherent in everything here, but it's clear that the saxophonist was hearing something else in his head, the way he squeezes notes tightly into some phrases where they might be placed elsewhere, and substitutes small, lithe lines inside Bryant's solos which dictate the harmonic intervals more conventionally with his singing approach. And speaking of rhythm, the album's hinge piece is the burning calypso "Hold "Em Joe." Here again, as Bryant's changes play it straight, Rollins shoves his horn inside them and draws out the beat on his horn over and over again. As strange and beautiful as this record sounds, it would have been wonderful if he had chosen to explore this track on his later records, but that restless spirit was already moving onto something else, as evidenced by his next offering, which were his original compositions for the film Alfie with arrangements by Oliver Nelson.
If anything, Sonny Rollins on Impulse! feels as if it were a recording Rollins had to get out of his system. But thank goodness for us because it's a winner through and through.
The "golden age" of recordings was from 1955 to 1965, at the beginning of the LP and the stereo era, where pure vacuum tube amplification helped produce recordings demonstrating unparalleled fidelity and warmth, lifelike presence and illumination.
This Analogue Productions LP was remastered by Steve Hoffman and Kevin Gray at AcousTech, using pure analogue components only, from the original analogue studio tapes through to the cutting head and was pressed on virgin vinyl at RTI.