Pony Pointdexter : Pony's Express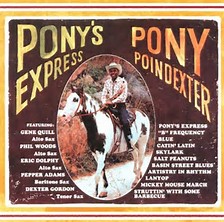 Pony Pointdexter : Pony's Express
Pony Poindexter (alto & soprano sax), Eric Dolphy, Sonny Reed, Gene Quill, Phil Woods (alto sax), Pepper Adams (baritone sax), Billy Mitchell, Clifford Jordan, Dexter Gordon, Jimmy Heath, Sal Nistico (tenor sax), Donald Byrd, Ernie Royal (trumpet), Tommy Flanagan, Guido Mahones (piano), Ron Carter (bass), Elvin Jones, Charlie Persip (drums)
Epic 1603
Scorpio Music Records : LP 180 gram
Brand New and Sealed Record
Discontinued : last copy available!...
A1 - Catin' Latin
A2 - Salt Peanuts
A3 - Slylark
A4 - Struttin' With Some Barbecue
A5 - Blue
A6 - "B" Frequency
B1 - Mickey Mouse March
B2 - Basin Street Blues
B3 - Pony's Express
B4 - Lanyop
B5 - Artistry in Rhythm
Recorded on February 16, April 18 and May 10, 1962 in New York City.
Pony Poindexter was a sporadically recorded bop saxophonist who played on sessions by Lambert, Hendricks and Ross as well as Wes Montgomery.
"Pony's Express is Pony Pointdexter's debut album as a leader. With arrangements by Gene Kee, Poindexter leads several all-star ensembles, which include Phil Woods, Gene Quill, Sonny Red, Eric Dolphy, Dexter Gordon, Clifford Jordan, Jimmy Heath, Sal Nistico, Billy Mitchell, and Pepper Adams. The rhythm sections are also first rate : either Gildo Mahones or Tommy Flanagan play piano, with Ron Carter or Bill Yancey on bass, and Charlie Persip or Elvin Jones on drums. Poindexter is a convincing ballad player with the rich reed section backing him on "Skylark," while he trades choruses with Gordon's big-toned tenor on a snappy and decidedly nontraditional take of "Struttin' With "Some Barbecue." His originals include the smoking opener "Catin' Latin," with the leader on soprano sax (and almost getting buried by the backing saxophone section at times), the brisk blues "Pony's Express," and the loping blues "Lanyop," which also features a typically daredevil alto solo by Dolphy. It is a shame that Pony Poindexter didn't get many more opportunities to record as a leader, as this release demonstrates his considerable promise." - AllMusic
The "golden age" of recordings was from 1955 to 1965, at the beginning of the LP and the stereo era, where pure vacuum tube amplification helped produce recordings demonstrating unparalleled fidelity and warmth, lifelike presence and illumination.