Oscar Peterson & Nelson Riddle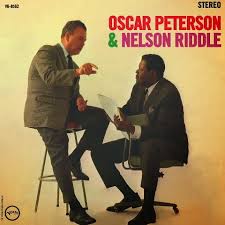 Oscar Peterson & Nelson Riddle
Oscar Peterson (piano), Ray Brown (bass), Ed Thigpen (drums), Nelson Riddle and his orchestra
Verve 8562
Speakers Corner Records : LP 180 gram
Brand New and Sealed Record
Discontinued : last copy available!...
A1 - That Old Feeling
A2 - Let's Fall In Love
A3 - I'll Never Be The Same
A4 - Blues In The Night
A5 - How Long Has This Been Going On
A6 - I Was Doing All Right
B1 - What's New
B2 - Moon Song
B3 - Just One Of Those Things
B4 - There's No You
B5 - You Go To My Head
B6 - Sweet Lorraine
Recorded on November 8 & 10, 1963 at Radio Recorders Studio in Los Angeles.
The Nelson Riddle Orchestra was always great enough to play music for film and television soundtracks, and accompany the greatest of stars, including Louis Jordan, Frank Sinatra, Ella Fitzgerald, Peggy Lee, and Antonio Carlos Jobim, among many others. For the band to back up the 1963 version of the Oscar Peterson trio with bassist Ray Brown and drummer Ed Thigpen might have created some tension, with Peterson always wanting to cut loose and go over the top as opposed to the silky smooth sound Riddle favored. Fortunately, Peterson strikes a balance between playing it cool and lettin' 'er rip on this collection of standards with the dinner hour in mind. Though not exclusively subtle and romantic, Riddle and Peterson strike a golden bipartisan compromise in rendering these well-known American popular songs into quietly burning embers of pure delight. It's a predictable mix, but so warm and heartfelt that one has to commend the participants for allowing each other their own personal ideas without selling out.
Riddle's contribution was to form a unique group, unfortunately all unattributed, of ten cellos (no violins or violas), five horns, three flutes, a harp, and a percussion section. No one section dominates, which is the beauty of the famed arranger/composer/conductor's concept. Summarily, Peterson chooses to not clash with the instruments as he trades phrases while generally not playing along with them. This non-interruptive dialogue makes for communication that creates the best chemistry from a dynamic standpoint. In the case of "Come Sunday," Riddle's unadulterated chart of Duke Ellington's immortal composition finds Peterson in perfect sway, while separate and equal bluesy proportions of Count Basie-like melody earmark the easy swinging "Judy." There's more Basie included in the concise, three-minute "Someday My Prince Will Come" with good new lines from Peterson, while a great rendition of "A Sleeping Bee" recalls the Frank Foster years with Basie with lots of counterpoint as the cello tentet adds considerable depth to the proceedings. A pastoral mood hovers over "My Foolish Heart" with the your turn-my turn piano-orchestra's respectful trading of melody in full regalia, while the flute section takes the serene beauty image further during the Peterson-Gene Lees composition "Nightingale" and the always lovely "Portrait of Jenny." The version of "'Round Midnight" is an example of Peterson going off a bit on the arpeggiated side amongst a fairly stock horn chart, but utterly lovely, and not too creamy. Again -- this is not a soft and fuzzy overstrung effort dominated by cheese or cotton candy, but instead a quietly strong, rich, fully evocative set of great tracks that emphasize the undercurrent rather than the overflow of emotions. It is unusual in a starkly emotional sense of being, but the way all projects of this size and nature should be approached -- with taste, class, and a healthy portion of restraint.
The "golden age" of recordings was from 1955 to 1965, at the beginning of the LP and the stereo era, where pure vacuum tube amplification helped produce recordings demonstrating unparalleled fidelity and warmth, lifelike presence and illumination.
This Speakers Corner LP was remastered using pure analogue components only, from the original analogue studio tapes through to the cutting head, and was pressed with virgin vinyl at Pallas. More information under http://www.pure-analogue.com