John Mayall & Eric Clapton : Blues Breakers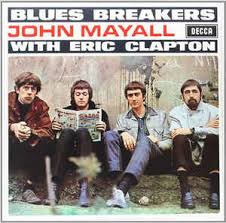 John Mayall & Eric Clapton : Blues Breakers
John Mayall (piano, organ, harmonica, vocals), Eric Clapton (guitar), John McVie (bass), Hughie Flint (drums), Johnny Almond (baritone sax), Alan Skidmore (tenor sax), Dennis Healey (trumpet)
Decca 4804
Speakers Corner Records : LP 180 gram
Brand New and Sealed Record
Discontinued : last copy available!...
A1 - All Your Love
A2 - Hideaway
A3 - Little Girl
A4 - Another Man
A5 - Double Crossing Time
A6 - What'd I Say
B1 - Key To Love
B2 - Parchman Farm
B3 - Have You Heard
B4 - Ramblin' On My Mind
B5 - Steppin' Out
B6 - It Ain't Right
Recorded in March 1966 at Decca Studios in West Hampstead, London.
Blues Breakers with Eric Clapton is John Mayall & the Bluesbreakers's second album, now with Eric Clapton as part of the band. Clapton would leave after this recording to form Cream, though would team up again in 1971 for the double LP Back to the Roots.
Blues Breakers with Eric Clapton is also known as The Beano Album because of its cover photograph showing Clapton reading The Beano, a British children's comic. The guitar Eric Clapton used during these sessions was a sunburst 1960 Gibson Les Paul Standard with two PAF humbucking pickups. This guitar (which was stolen in 1966) is also called the "Blues Breaker" or "Beano" Les Paul, a replica of which was reissued by Gibson in 2012.
"Bluesbreakers with Eric Clapton was Eric Clapton's first fully realized album as a blues guitarist; more than that, it was a seminal blues album of the 1960s, perhaps the best British blues album ever cut, and the best LP ever recorded by John Mayall's Bluesbreakers. Standing midway between Clapton's stint with the Yardbirds and the formation of Cream, this album featured the new guitar hero on a series of stripped-down blues standards, Mayall pieces, and one Mayall/Clapton composition, all of which had him stretching out in the idiom for the first time in the studio. This album was the culmination of a very successful year of playing with John Mayall, a fully realized blues creation, featuring sounds very close to the group's stage performances, and with no compromises. Credit has to go to producer Mike Vernon for the purity and simplicity of the record; most British producers of that era wouldn't have been able to get it recorded this way, much less released. One can hear the very direct influence of Buddy Guy and a handful of other American bluesmen in the playing. And lest anyone forget the rest of the quartet: future pop/rock superstar John McVie and drummer Hughie Flint provide a rock-hard rhythm section, and Mayall's organ playing, vocalizing, and second guitar are all of a piece with Clapton's work. His guitar naturally dominates most of this record, and he can also be heard taking his first lead vocal, but McVie and Flint are just as intense and give the tracks an extra level of steel-strung tension and power, none of which have diminished across several decades." - AllMusic.
The "golden age" of recordings was from 1955 to 1965, at the beginning of the LP and the stereo era, where pure vacuum tube amplification helped produce recordings demonstrating unparalleled fidelity and warmth, lifelike presence and illumination.
This Speakers Corner LP was remastered using pure analogue components only, from the original analogue studio tapes through to the cutting head, and was pressed with virgin vinyl at Pallas. More information under http://www.pure-analogue.com