Freddie Redd : Shades of Redd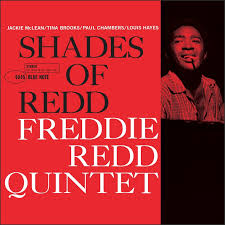 Freddie Redd : Shades of Redd
Freddie Redd (piano), Jackie McLean (alto sax), Tina Brooks (tenor sax), Paul Chambers (bass), Louis Hayes (drums)
Blue Note 4045
Music Matters Records : 2 LPs 180 gram (45rpm)
Limited edition : 2,500 printings
Brand New and Sealed Record
1 - Thespian
2 - Blues-Blues-Blues
3 - Shadows
4 - Melanie
5 - Swift
6 - Just A Ballad For My Baby
7 - Ole
Recorded on August 13, 1960 at Rudy Van Gelder Studio in Englewood Cliffs, New Jersey.
Freddie Redd is a name that every jazz collector should know. During 1957-60, he recorded three memorable albums : San Francisco Suite (a trio date for Riverside), The Connection (his score for the famous play) and Shades Of Redd. While he has spent much of the time in obscurity since then, with occasional comebacks, Shades Of Redd is the obvious highpoint of the pianist-composer's recording career. Redd wrote the music specifically for the two mighty horn players featured with his quintet (altoist Jackie McLean and tenor-saxophonist Tina Brooks). While Redd's fine piano playing is an outgrowth of Bud Powell's, his writing style was always quite original and it clearly inspired the two contrasting saxophonists when they met up in 1960. Filled with the optimism of the era and looking forward to freer sounds but staying closely connected to swinging hard bop, this formerly rare gem hints at John Coltrane and Ornette Coleman while sounding very much like Freddie Redd. No jazz collection is complete without Shades Of Redd.
After he found tremendous success composing music for and starring in both the stage and film versions of The Connection, Freddie Redd chose to compose music with his two outstanding sax players, Jackie McLean and Tina Brooks, in mind. These seven spectacular originals by Redd offer a unique and essential perspective on early '60s bop. The interplay between McLean's sweet alto and Brooks's robust tenor makes Shades of Redd a hallmark of its era and an essential addition to any jazz collection.
The "golden age" of recordings was from 1955 to 1965, at the beginning of the LP and the stereo era, where pure vacuum tube amplification helped produce recordings demonstrating unparalleled fidelity and warmth, lifelike presence and illumination.
Like all Music Matters Jazz releases, this audiophile vinyl reissue is remastered from the original analogue Van Gelder studio tapes and pressed on 180g virgin vinyl at RTI. The highest quality gatefold cover features original session photography on the inside.