Annie Ross & Gerry Mulligan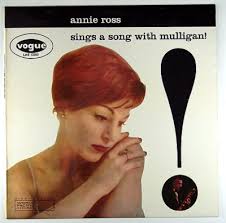 Annie Ross & Gerry Mulligan
Annie Ross sings a song with Mulligan!
Annie Ross (vocals), Gerry Mulligan (baritone sax), Chet Baker, Art Farmer (trumpet), Bill Crow, Henry Grimes (bass), Dave Bailey (drums)
Capitol 53
Pure Pleasure Records : LP 180 gram
Brand New and Sealed Record
A1 - I Feel Pretty
A2 - How About You
A3 - I've Grown Accustomed to Your Face
A4 - This Time the Dream's On Me
A5 - Let There Be Love
A6 - The Lady's In Love With You (Mono)
A7 - You Turned the Tables On Me (Mono)
B1 - All Of You
B2 - Give Me the Simple Life
B3 - This Is Always
B4 - Between the Devil and the Deep Blue Sea
B5 - It Don't Mean a Thing
B6 - My Old Flame (Mono)
B7 - I Guess I'll Have to Change My Plan
December on 11-12, 1957 (A7-B7 with Chet Baker and Henry Grimes) and September 25, 1958 (A1-6 with Art Farmer and Bill Crow) in New York City.
Singer Annie Ross' first solo album after joining Lambert, Hendricks & Ross finds her at the peak of her powers. Ross is joined by two versions of the Gerry Mulligan Quartet with either Chet Baker or Art Farmer on trumpet, Bill Crow or Henry Grimes on bass and drummer Dave Bailey. Annie Ross is at her best (and most appealing) on "I've Grown Accustomed To Your Face," "Give Me The Simple Life," "How About You" and "The Lady's In Love With You," but all of the selections are quite rewarding and her interplay with baritonist Mulligan is consistently memorable.
"Much like Rosemary Clooney, Annie Ross did not rely on vocal gymnastics. Instead she relied on an inborn understanding of how to get inside each song and make it her own, and she had the voice of an angel. Here, she relies on material taken from the Great American Songbook and uses vocal inflection, the beat, and her talent in setting up a verse to make this such an enjoyable album. Listen to the way she sings "Give Me the Simple Life" with Mulligan, Farmer, Crow and Bailey, or "It Don't Mean a Thing" with Mulligan, Baker, Grimes and Bailey, for two superb examples of the synergy between singer and band." - John Crossett, Soundstage.com
"The packaging and sound are first-rate. So well done is this LP that if Pure Pleasure didn't put the obligatory identifying line on the bottom of the rear cover you might think you had somehow stumbled onto a mint original. The sound is mint as well. Annie Ross's voice is front and center, full-bodied and realistic. Mulligan's baritone sax comes off well, sounding full, deep and reedy. Bass is firm, strong and deep, and there's good snap to the drums." - John Crossett, Soundstage.com
The "golden age" of recordings was from 1955 to 1965, at the beginning of the LP and the stereo era, where pure vacuum tube amplification helped produce recordings demonstrating unparalleled fidelity and warmth, lifelike presence and illumination.
This Pure Pleasure LP was remastered using pure analogue components only, from the original analogue studio tapes through to the cutting head and was pressed with virgin vinyl at Pallas.