Johnny Griffin : The Kerry Dancers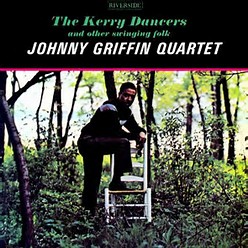 Johnny Griffin : The Kerry Dancers
Johnny Griffin (tenor sax), Barry Harris (piano), Ron Carter (bass), Ben Riley (drums)
Riverside 9420
Analogue Productions Records : 2 LPs 180 gram (45rpm)
Limited Edition : 2,500 printings
Brand New and Sealed Record
Discontinued : last copy available!...
A1 - The Kerry Dancers
A2 - Black is the Color of My True Love's Hair
B1 - Green Grow The Rushes
B2 - The Londonderry Air
C1 - 24 1/2 Daze
C2 - Oh, Now I See
D1 - Hush-A-Bye
D2 - Ballad for Monsieur
Recorded on December 21, 1961, and January 5 & 29, 196,2 at Plaza Sound Studios in New York City.
A musician with a penchant for variety and surprise, Johnny Griffin has provided plenty of both through his long career. This 1961 quartet album found the master tenor saxophonist exploring the possibilities in four familiar folk songs, three original compositions and a standard song, "Hush-a-Bye," based on a classical piece. To all of them Griffin applied his magisterial tone, vital imagination and ability to extract the greatest meaning from any harmonic structure. His companions in the adventure were Barry Harris, who was virtually the Riverside Records house pianist during this period; Ron Carter, a bassist of steadily increasing importance; and Ben Riley, then working with Sonny Rollins and soon to become Thelonious Monk's drummer. It is unlikely that any group of Scottish singers ever performed "Green Grow the Rushes" with energy like Griffin's.
The "golden age" of recordings was from 1955 to 1965, at the beginning of the LP and the stereo era, where pure vacuum tube amplification helped produce recordings demonstrating unparalleled fidelity and warmth, lifelike presence and illumination.
This Analogue Productions LP was remastered by Steve Hoffman and Kevin Gray at AcousTech, using pure analogue components only, from the original analogue studio tapes through to the cutting head and was pressed on virgin vinyl at RTI.