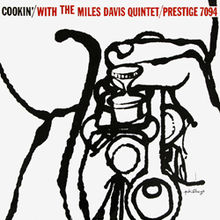 Miles Davis : Cookin'
Miles Davis (trumpet), John Coltrane (tenor sax), Red Garland (piano), Paul Chambers (bass), Philly Joe Jones (drums)
Prestige 7094
Analogue Productions : LP 200 gram
Brand New and Sealed Record
A1 - Airegin
A2 - Tune Up
B1 - Just Squeeze Me
B3 - Blues By Five
B4 - My Funny Valentine
Recorded May 11 and October 26, 1956 by Rudy Van Gelber in Hackensack, New Jersey
These two sessions resulted in four albums : Cookin' with the Miles Davis Quintet, Relaxin' with the Miles Davis Quintet, Steamin' with the Miles Davis Quintet and Workin' with the Miles Davis Quintet. These four albums are considered to be among the best hard bop performances.
The famed extended recording sessions of the Miles Davis Quintet, wherein they taped the band's basic repertoire (and what a marvelous mixture of jazz originals and standards) in the manner of nightclub sets rather than the repetition of the usual studio takes. Cookin' was the first to be released and it excited listeners not only with its contents but with its promise of more to come. Davis, Coltrane, Garland, Chambers, and Jones : one of the classic groups in the history of jazz. It established a level of excellence that was to foster a long, successive line of outstanding Davis quintets and sextets through the Fifties and Sixties.
Part of the ultimate audiophile Prestige mono reissues from Analogue Productions, 25 of the most collectible, rarest, most audiophile-sounding Rudy Van Gelder recordings ever made. All mastered from the original analogue master tapes by mastering maestro Kevin Gray. 200-gram LPs pressed at state-of-the-art plant Quality Record Pressings and plated by Gary Salstrom. Deep groove label pressings, tip-on jackets on thick cardboard stock.