Ella Fitzgerald : Like Someone in Love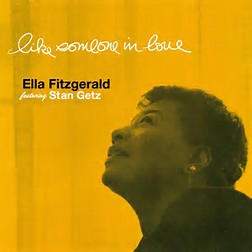 Ella Fitzgerald : Like Someone in Love
Ella Fitzgerald (vocals), Ted Nash (alto saxophone), Stan Getz (tenor saxophone), Frank DeVol and his Orchestra
Verve 6000
Analogue Productions : 2 LPs 200 gram (45rpm)
Limited edition : 2,500 printings
Brand New and Sealed Record
A1 - There's A Lull In My Life
A2 - More Than You Know
A3 - What Will I Tell My Heart
A4 - I Never Had A Chance
B1 - Close Your Eyes
B2 - We'll Be Together Again
B3 - Then I'll Be Tired Of You
B4 - Like Someone In Love
C1 - Midnight Sun
C2 - I Thought About You
C3 - You're Blasé
C4 - Night Wind
D1 - What's New
D2 - Hurry Home
D3 - How Long Has This Been Going On
Recorded on October 15, 28, 1957 at Capitol Studio in Los Angeles.
Like Someone in Love was recorded at the same time as her albums with Louis Armstrong and in the midst of her epic 'Songbooks' project, celebrating the composers of the 'Great American Songbook' and Broadway. The album features only four songs written by the composers featured in her 'Songbooks', instead concentrating on very famous ballads by lesser known writers. Some songs on the album were also recorded with Louis Armstrong on the albums that they collaborated on. Stan Getz is featured on tenor sax on four tracks, including "Midnight Sun" and "You're Blasé". Ted Nash plays the alto sax and solos. Cover photos are by the great Phil Stern. Like Someone in Love was targeted at "people in love". But its real audience, then as now, was anyone who loves timeless songs impeccably sung. What was timeless in 1957 still is.
The "golden age" of recordings was from 1955 to 1965, at the beginning of the LP and the stereo era, where pure vacuum tube amplification helped produce recordings demonstrating unparalleled fidelity and warmth, lifelike presence and illumination.
This Analogue Productions LP was remastered by George Marino at Sterling Sound, using pure analogue components only, from the original analogue studio tapes through to the cutting head and was pressed on 200-gram virgin vinyl at Quality Record Pressings.