Curtis Fuller : The Opener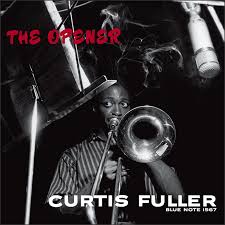 Curtis Fuller : The Opener
Curtis Fuller (trombone), Hank Mobley (tenor sax), Bobby Timmons (piano), Paul Chambers (bass), Art Taylor (drums)
Blue Note 1567
Music Matters Records : 2 LPs 180 gram (45rpm)
Limited Edition : 2,500 printings
Brand New and Sealed Record
1 - A Lovely Way To Spend An Evening
2 - Hugore
3 - Oscalypso
4 - Here's To My Lady
5 - Lizzy's Bounce
6 - Soon
Recorded on June 16, 1957 at Rudy Van Gelder Studio in Hackensack, New Jersey.
When bebop took over from swing, it was feared that the trombone was on its way to becoming a minor instrument. Few other than J.J. Johnson and Kai Winding could figure out how to play the potentially-awkward trombone at the rapid speeds favored by Charlie Parker and Dizzy Gillespie. However Curtis Fuller, who emerged in the mid-1950s, developed a style inspired by J.J. Johnson that became an influential force and helped to save the instrument. By the time he recorded The Opener in 1957, Fuller was the definitive hard bop trombonist, a position that he would own after spending several years in the 1960s as a member of Art Blakey's Jazz Messengers. For his debut Blue Note album, Fuller digs into three standards, two originals and "Oscalypso" (a calypso by Oscar Pettiford), showing that the trombone has an important role in modern jazz, at least by those who could play on this level. His warmth, swing and consistently colorful ideas make The Opener one of Curtis Fuller's most exciting and memorable.
The "golden age" of recordings was from 1955 to 1965, at the beginning of the LP and the stereo era, where pure vacuum tube amplification helped produce recordings demonstrating unparalleled fidelity and warmth, lifelike presence and illumination.
Like all Music Matters Jazz releases, this audiophile vinyl reissue is remastered by Kevin Gray and Steve Hoffman at Acoustech from the original analogue Van Gelder studio tapes and pressed on 180g virgin vinyl at RTI in Camarillo, CA. The highest quality gatefold cover features original session photography on the inside.